The past year was quite the jump back from a gaming industry shackled by the pandemic in 2020, with some terrific and unexpected entries pleasing and shocking fans alike. While our staff didn't have time to play every major release from 2021, here's the ten games that we deemed must-play experiences.
10. Splitgate
Spoiler alert: Halo Infinite is not on this list…because none of us owns an XBOX S. Fortunately, Splitgate felt like a blast from the past, blending classic Halo multiplayer with the thought provoking ingenuity of Portal. Sure, it's just a free to play online shooter with some questionable loot systems, but it also boasts countless play styles, intuitive and fun weapons, and again, at the end of the day, you're playing Halo and Portal in the same game. Now to see if they add vehicles and grappling hooks down the road.
9. Inscryption
Wildly inventive and eerily unsettling, Inscryption is a nearly flawless rogue like card building game with equally engaging environments and storytelling. We listed it a bit further from the top slot due to some of the game's later choices, but Inscryption tests your brain in combat, and then tests your mind with psychological horror, making it arguably the most unique, genre-defining title of 2021.
For more read our full review here.
8. Death's Door
For a game about reaping souls, Death's Door is surprisingly cute, with a plucky crow as the game's hero, and a goofy cast of supporting characters. But while this top down adventure game certainly isn't afraid to show its quirky personality and gorgeous settings, the combat mechanics rival those of Hades, and its progression is difficult yet rewarding. Think of it as a more pleasant Dark Souls, which ends up working surprisingly well.
7. It Takes Two
Let's get this out of the way: It Takes Two's darkly comedic and simple take on divorce is hardly a mature look at spousal separation. But with characters you love to hate, gorgeous world design, and constantly changing team-based mechanics, it's nearly impossible not to complete each exciting task with a huge grin. Whimsy reigns supreme on this fanciful, if not laughably and intentionally problematic romp through couples counseling.
6. Deltarune Chapter 2
The latest installment of Deltarune was as heartfelt and engaging as ever. Chapter 2 added in new memorable characters like Noel, all sorts of unique fights and mini games, and is overall a feel good adventure that let us escape from reality to a weird and fun techno world for about 5 hours. And in a year like 2021, it turns out that's exactly what we needed.
For more, read our full review here.
5. Bowser's Fury
While it was introduced as an add-on to Super Mario 3D World, Bowser's Fury ended up being more of a vision of what's next for our favorite plumber. Boasting a single open world where you travel from area to area in search of stars, this is a four hour, no fat platforming adventure that boasts immaculate controls and a kaiju sized-Bowser to fight. And even if this is just a brief taste of what's to come, you don't want to miss out on what's sure to be the appetizer of the gaming century.
4. Chicory
Chicory is a perfect blend of creative and thoughtful, as the player takes on the task of recoloring in the world around them. But along with its ability to give the player full creative color control, its themes simultaneously burden the player with wondering if they're doing a good job. Chicory pushes themes like imposter syndrome, burnout, and the importance of a good support system and learning to say no. Add in an adorably charming cast of characters, and a soundtrack full of bops from indie gaming music queen Lena Raine, and Chicory is easily one of the best indie games in the past few years.
3. Metroid Dread
Metroid Dread reminded audiences why it's called Metroidvania. Samus has so much movement, so much control, and so many tools at her disposal, and it's up to the player to use those to maximum effect so she can escape her most dangerous encounter yet. A masterpiece by all standards, Metroid Dread is as many parts horror as it is empowering, blending eerie escapes and stealth with badass moments. It's the pinnacle entry of the Metroid series.
For more, read our full review here.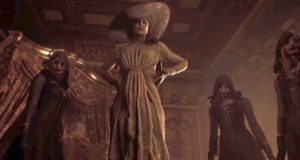 2. Resident Evil Village
Playing Resident Evil Village is like visiting a theme park dedicated to classic horror. Blending puzzles, shooting, psychological horror, and exploration, the player bounces around various themed horror lands. Each environment is seductively eerie, daring the player to take the next step towards scares and fun. It's a joyride filled with the spooks that are a nightmare lover's dream.
For more, read our full review here.
1. Psychonauts 2
It seems impossible what Psychonauts 2 has accomplished. After years of waiting for a sequel, would anyone even care about it? Would Tim Schaeffer be able to create a story to live up to expectations? The answer is resoundingly, yes. The levels are literally mindbendingly beautiful. The story oozes depth in its characters and its themes of loss and growth. The platforming is rebuilt for a modern audience. And most importantly, in an era of division and fear, Psychonauts 2's themes are so important. So with its emphasis on empathy, understanding, and limitless imagination, our game of the year is Psychonauts 2
For more, read our full review here.
Honorable Mentions
Returnal, Unpacking, Loop Hero, Toem, Death Loop
And be sure to let us know your games of the year in the comments!